One of the key drives for me to come to Ghana in this period was to learn more about what Black liberation and progression looked like outside of the UK. So, I have been keen to hear and learn from as many informed voices as possible. Knowing this, shortly after my arrival, my friend Akos sent me a poster to an event named Ghana Action Forum. The event aimed to bring together members of the diaspora and Ghanaian nationals to discuss the future of Ghana. Through a number of speeches, panels and fireside chats an array of themes were explored including: national identity, trade, entrepreneurship, tourism among others. The two-day event was hybrid, with the first day taking place in person streamed through Zoom and the second day taking place entirely online.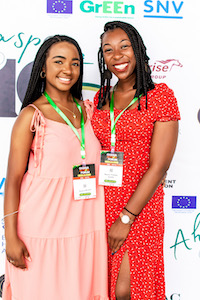 I was keen to attend the event because it was exactly these types of conversations that had enticed me to Ghana in the first place. I am eager to know how I can serve and benefit my country with my ideas, labour and love. However, it is important to do this without fostering a harmful saviour mindset. Being able to contribute without dominating is a deep challenge that requires self-awareness. My hope stepping into the event was to listen more to speak, to network with likeminded people and importantly to hear the prominent ideas being explored currently.
Going into the event (on March 3rd) I did not have many expectations, just hopes. I was keen to learn but I was fairly unfamiliar with the wider work of Ahaspora. What I noticed ahead of the event was that the organisers had managed to keep the cost of the event fairly accessible (300GHS) considering its calibre. The cost of this ticket included food, drink, room hire for the prestigious Kempinski hotel, a number of high profile speakers, photographers and videographers.
Having had some time to reflect, the event met and exceeded my expectations. It was incredible to hear first-hand the bravery a number of young people had taken in packing up their lives and relocating permanently to Ghana, with a lot of hope and a whole lot of uncertainty. What was even more inspiring about this event, was the recognition that there are many roles for us to play in the advancement of Ghana. While it may be some of our paths to emigrate and contribute to Ghana from the inside, there are many contributions that can be made towards Ghana while living elsewhere.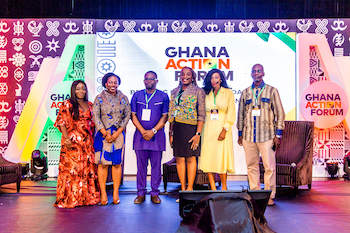 One of the most memorable speakers we heard from was Dr Sangu Delle. Having recently graduated from his PhD, Dr Delle brought an infectious passion and desire to speak truth to power. He highlighted the importance of humility in wanting to contribute to the progression of Ghana. He reminded the audience that often, while the answer may seem clear, there are unexpected challenges, concerns and obstacles which may not be immediately apparent to those living outside of Ghana. In the presence of the Second Lady of Ghana, he spoke to the need for decision makers to address some of Ghana's most pressing challenges including unemployment and unequal infrastructure between the northern and the southern regions. Finally, he left the audience with a call to action, warning it is time for us to move beyond the potential of Ghana and instead create the version of Ghana with the principles we need to see.
The event was supported by highly respected figures in Ghanaian government and politics. Some of the important figures included: the Director of the President's Office for Diaspora Affairs – Akwasi Awua-Ababio; the Second Lady of the Republic of Ghana – Her Excellency Mrs Samira Bawumia; and the CEO of Ghana's Tourism Authority – Akwasi Agyeman. These very senior guests not only spoke at the event but stayed on to listen to the ideas being explored in this electric space. This was significant because it meant these influential offices heard first hand both the critiques of the status quo as well as ideas for the future.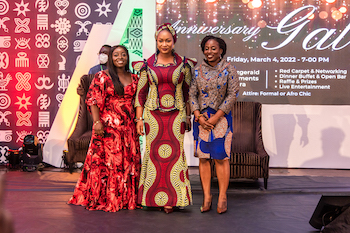 Overall, the event highlighted that whatever our contribution is to the future of Ghana, we have a duty not to only think but to commit our thoughts into action. At the end of every session, speakers were invited to pinpoint their own action points to demonstrate exactly this. Some additional takeaways I absorbed during the event were:
Once you decide to change your life, no one can stop you;
We are capable of freeing ourselves from the expectations of society and others;
The West is not the be all and end all;
We are not coming home to flex, but to contribute;
Ghana already has incredible talent, we are not coming here to save the country but to complement, enhance and support existing work;
We have to find a way of preventing further class divides due to an influx of diasporans with foreign currency.
Perhaps if I were to ask more of Ahaspora, I would recommend that different voices be represented in the conversations. I ask how we can reimagine Ghanaian national identity without considering how certain groups are already excluded? There are significant power imbalances that need to be acknowledged and addressed. Furthermore, we did not account enough for how increased tourism creates a dual society and starker disparity between the rich and poor due to the influx of foreign money. This is a question which will be pertinent to answer and pre-empt if we wish to create the Ghana of tomorrow based on true Pan Africanism, inclusion and progression.
All considered, I left the event ready to change my life. I want to be the type of person I believe I can be: rebellious to social structures; unapologetic in my pursuit of positive social change; self-assured enough to subscribe to the metrics of success that I set for myself.
Thank you to the organisers of this incredible event Ahaspora for reminding me of exactly that.