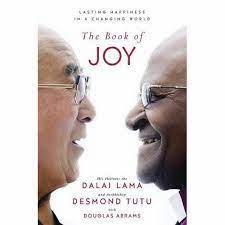 In January I visited my brother's apartment in Manchester and nosily strayed into his home office area. He had recently designed the space with a desk, working chair and a bookshelf. The bookshelf was full of new reads, completed reads and notebooks. Guiding my finger across the spines, I noticed a title that jumped out at me, The Book of Joy. The title struck me because at that time, joy was exactly what I had been seeking out (and struggling to find). So, while my brother was at work I started reading.
The Book of Joy was unbelievably easy to sink into. The writing style felt as natural as the conversation that it had been based upon. Despite the fact that two of the co-authors were infamous religious figures, the tone and themes of the book were strikingly relatable. The book was co-authored by the late Archbishop Desmond Tutu, the Dalai Lama and Douglas Abrams. Fundamentally the book is a reflection on the balance between human joy and suffering. The reflection is grounded in our contemporary context and explores how we experience everyday joy and sorrow in the modern world.
This theme is something I have evaluated, considered and reflected upon a lot. In a world where we are increasingly isolated, anxious and anti-social, how do we continue to interact with one another in a way that fosters lasting happiness. Importantly, this trajectory of isolation is not accidental. At worst the deliberate intention, or at best the unfortunate by-product, of a global system that values profit above all else. How do we centre joy when we are forced to spend our waking hours working to afford essentials to survival? 
In my everyday I make the effort to be warm and talkative with strangers to this pursuit, but the truth is, this question is a challenge. We find it difficult to put ourselves out there and more entitled to others putting in the work to come to us. The result? Chronic loneliness, a mental health crisis and difficulty making meaningful connections. So, the publishing of this book and my personal timing in reading it, could not have been more poignant.
The Book of Joy offers guidance – both practical and ideological – for how we can pursue joy. The consensus between all three authors is that we generate joy by decentring ourselves and instead centring others or humanity as a whole. We may feel pain, but so do others. Helping others overcome their own suffering can distract us from our own. The late Archbishop places a significant value on laughter. He encourages us to find laughter in the place of pain, to learn not to take ourselves too seriously and to share laughter with others.
I really took my time to read this book, having started in January and only finished it in early March. However, this was deliberate. It was such a joy to consume such wholesome content, to be encouraged to reflect meaningfully on my mindset, to practice decentring myself and centring others. No part of me wished to rush the experience. I would definitely encourage anyone who needs a pick me up to read this book. It is enlightening, spiritually, mentally and even physically. I will certainly be rereading it again.